All memberships are reviewed carefully to ensure a great mix of great members. We're looking to foster a culinary community as much as provide a great culinary incubator and business environment.
The Cook's Nook is more than just a culinary incubator. We're a community of food professionals and entrepreneurs working to build food companies that are sustainable, profitable, and aware of the community around us.
The Cook's Nook leverages food creativity, technology business practices, entrepreneurship and shared space to incubate food businesses. Members of our culinary incubator enjoy many benefits, including: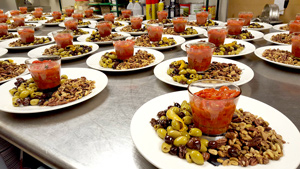 24/7 scheduled, secure access to The Cook's Nook kitchens
Wireless Internet connection
Reach-in refrigeration during scheduled production time
Speed rack and Metro shelves during schedule production time
Receiving area for loading/unloading product
Spacious dish areas and prep sinks to maintain high levels of sanitation
Clean, bright professional space, built specifically for culinary professionals
Outdoor lawn for limited smoking or to host your brand events
Tree-lined, inviting professional space and community
Membership Plans
The Cook's Nook offer a variety of membership plans to meet the needs of a varied food + tech community. Whether you are working on core recipes and processes, pushing towards rapid growth, delivering quality product, creating an image and brand, or simply want to learn more about food entrepreneurship, we have a plan for you.
Food Entrepreneur Membership
10/20/40/60/80 hour production plans available
Scheduled and Secured Production Access & Times
Access to co-working spaces M-F, with Wi-Fi and Print/Scan/Copy/Fax Center
Peer-to-Peer and Individual Entrepreneurship Consulting
Food Product Development Feedback
Food Industry and Topical Workshops and Meetings
Select Vendor Drop Program & Select Shared Product Ordering
Dry, Walk-In, and Freezer Storage Available
Digital and Social Media Co-Marketing
Demonstration Kitchen for Meetings, Brand Photography, and Events Available
Access to Members' Lawn for Special Events
Food Costing and Operational Planning Feedback
City of Austin Trash, Recycling, and Organics Diversion Compliance
Mobile Vendor Membership
Gray Water and Oil Station Access
Fresh Water Access
CPF Compliance
Limited Emergency Cold Storage Access
City of Austin Trash, Recycling, and Organics Diversion Compliance
Access to co-working spaces M-F, with Wi-Fi and Print/Scan/Copy/Fax Center
Digital and Social Media Co-Marketing
Demonstration Event Space for Meetings, Brand Photography, and Events Available
Electric Hookup Access
Online Invoicing
Food+Tech Professional Membership
Access to co-working spaces M-F, with Wi-Fi and Print/Scan/Copy/Fax Center
Networking & Social Opportunities
Peer-to-Peer and Individual Entrepreneurship Coaching
Digital and Social Media Co-Marketing
Food Industry Meetings and Workshops
Discounts on Select Paid Programming with Partners
Digital and Social Media Co-Marketing
Access to Demonstration Kitchen for Brand Photography and Events