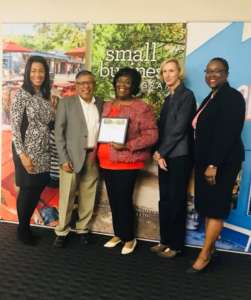 Monday, April 30th kicked off National Small Business Week with an array of events spanning over the course of the week. We were honored to receive an award, as nominated by The Greater Austin Black Chamber of Commerce, for Excellence in Community Business Leadership!
For those of you in Austin, TX, you can still sign up for the following events to help secure the tools and information needed to grow your small business:
Thursday, May 3rd
Small Biz Lawyer Up! Legal Clinic
6PM – 8:30PM
Entrepreneur Center of Austin, 4029 S. Capital of Texas Hwy. Suite 110, Austin, TX 78704
Texas CBAR is providing a FREE small business legal clinic in the Austin metro area. Volunteer attorneys will be available for one-on-one 30 minute consultation sessions to cover topics important to small businesses, such as entity formation, general liability, contracts, employment procedures, negotiations, patents and trademarks and more.
Friday, May 4th
The Art of Social Media for Advanced Users
10:30AM – 12PM
Carver Branch Library, 1161 Angelina Street, Austin, TX 78702
Back by popular demand! Move beyond basic creation of a business page or account towards an integrated social media strategy with artful engagement. This interactive workshop will present how to stage photos and create content across platforms to drive customers to your business account. Top Austin food blogger Jane Ko of A Taste of Koko will guide you through creative photo taking, editing processes, campaign development, and overall branding strategy for a robust social media presence. Light refreshments available.