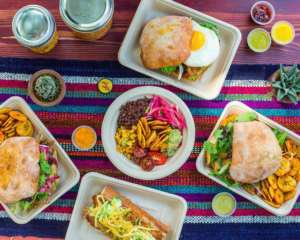 Kati Luedecke's
Killa Wasi
infuses modern Peruvian cuisine with Central Texas ingredients to make for delicious flavors at their food truck. Originally from Brenham, Texas, Luedecke has over a decade of culinary experience under her belt. After taking a trip to Peru in 2014, she fell in love with the culture, landscape and food of the country. With Austin influenced by many of the same cultures as Lima, it felt a natural choice to bring the tastes of Peru back to her city. After starting a successful supper club in the Allendale neighborhood, Luedecke cultivated the opening of her food truck, Killa Wasi. "The name Killa Wasi means 'moon house' in the native Quechuan language", states Luedecke. It celebrates Mama Killa, the Incan goddess of the moon. It's important the food we make reflects the landscape of Peru: ocean, desert, mountain, and rainforest." Currently located in the Govalle neighborhood at 828 Airport Blvd, Killa Wasi offers a variety of menu choices, catering options, private dining, and continual events throughout the city. Below are a few events they have coming up in the next month:
Dia's Market is excited to host Peruvian food truck Killa Wasi in their kitchen every Saturday evening from 5:30PM to 7:30PM. Attendees are welcome to take their dinner home or eat on Dia Market's patio or in store. Chef Luedecke will be concocting traditional Peruvian dishes along with build-your-own ceviche bowls. RSVP here.
The biggest community event of the season is taking place at the end of September with Southwest Boulderfest, packed with live music, food trucks, vendors and climbing. The event takes place early at 7:30PM and continuing on until 10PM. More information can be found here.
Killa Wasi presents Fright Night on Friday, October 13th from 7:30PM to 10:30PM! They'll be serving up a special menu for the evening, including Huancaina Popcorn and partnering with Osmo's Daughter Brewing for Chicha Morada beer for the evening. Screenings of Goosebumps episodes will continue through the night for those of you with children. Feel free to bring chairs, blankets and your dogs. This event is BYOB. RSVP for the night here.