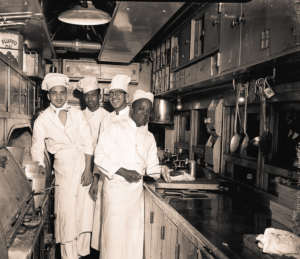 We're proud to be a visionary sponsor for the
Greater Austin Black Chamber of Commerce
's inaugural
A Taste of Black Austin
's reception on Tuesday, January 31st, 2017! Local Black chefs will prepare
hors d'oeuvres for one of Austin's most unique opportunities to explore the narrative of economic development through the historical context of food.

All the food prepared for the event will be inspired by African-American dishes discovered through menus and recipe books archived by the Austin History Center. Tickets for the event are $65 and community sponsored tickets are $125, including access to a VIP cooking demonstration prior to the reception. You can purchase your tickets here.

A list of Black-owned restaurants, food-makers and caterers will be available to attendees to support via Taste of Black Austin's website. The Greater Austin Black Chamber of Commerce is delighted to establish this on-going program to help drive prosperity to local Black food industry professionals, with a select number of Black-owned restaurants providing a pre-fixe menu throughout the week.
A portion of the proceeds will also aid in benefiting
Urban Roots
, who use food and farming to transform the lives of our younger generation and inspire, engage and nourish our community. This non-profit organization aids youth in growing fresh and healthy foods in their neighborhoods while empowering them as leaders.