The Cook's Nook is a culinary incubator with a full range of commercial kitchen equipment and business support.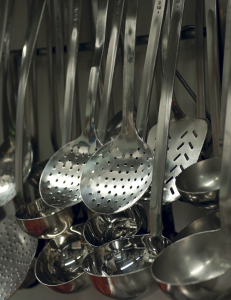 The kitchens occupy a former Southeast Austin family home and warehouse in a lovely green space near the intersection of Airport, Hwy. 71 and Ben White Boulevard – just south of the river. It's convenient to downtown from 5th and 7th Streets, with easy access from 183.
Two bus routes, 4 Montopolis and 350 Airport Blvd, stop within a half-mile of The Cook's Nook, and bike racks are provided onsite.
Features Include :
Clean, professional facility – cleanliness leads to godliness! Members are required to keep the kitchens clean. In addition, our team also cleans, and we bring in deep cleaners on schedule.
Large Culinary Kitchen –  there are 8 stations, and each station has space for two to three team members, prep table, metro shelf. Each station is within reach of hot line, sinks, same-day refrigeration and dish. You can find the following equipment: a 20 qt mixer, a 40 qt mixer, a fryer, a chargriller, 2 – 8 burners, flattops, 2 double stacked convection ovens, day speed racks, and floor carts for shared use.
Members' Kitchen – with stations, refrigeration, enhanced lighting and decorated tastefully for member meetings, client tasting, and food testing
Walk-in refrigeration and freezer – for eligible members with large production
Dry storage and service goods storage – for eligible members with large production or caterers with service items
Delivery and receiving area – receive and dispense large product delivery for same day use to your station
Outdoor space for smoking and grilling – barbecue if you have to, or just hang out in the garden area
Day lockers – secure your valuables while in production
Wi-fi and secure 24/7 access – stay connected, feel safe. If you need to cook overnight, we get it and want to make sure you're secure while doing it.
Co-working environment – know your fellow members, their business aims and goals. There are no strangers in The Cook's Nook.
Professional Business Environment – open, professional kitchen for members, clients, and vendors – our members can run their businesses from The Cook's Nook, show their product, host tastings and engage with potential clients, customers, and vendors
Business Incubation – peer and chef-led meetings and consulting to help your product, operations, and business stay on track
Ready to Get Started? Fill out a Cook's Nook Application Form.
Upcoming Events
Stay Tuned!

Look for events from the Cook's Nook in the coming months.